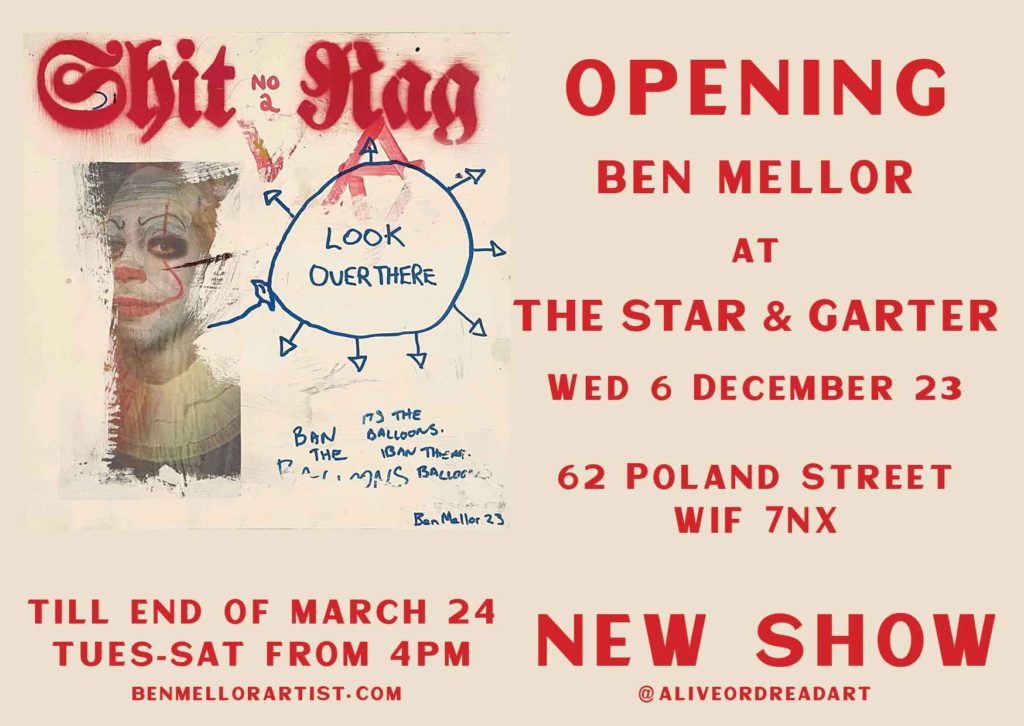 Shit Rags. A Month in a Life of Darkness
6 December 2023 – End of January 2024
Given the opportunity of a second show I thought it the perfect occasion to explore what I consider to be the most pernicious of influences over our society, Machiavellian newspaper owners. I immersed myself in their output and emerged out of the darkness with my new collection. It's a mixed media series worked up with contemporary collage, stencils (both artist designed and commercial), oil pastels, spray paint, house paint and traditional mark making. Certain images (politics my own) have been provided by a great photographer @dougie_wallace who kindly gave me access to his Soho Unlocked-Portraits series. Other influences have been Robert Rauschenberg, Kurt Schwitters, Jean-Michel Basquiat and George Carlin.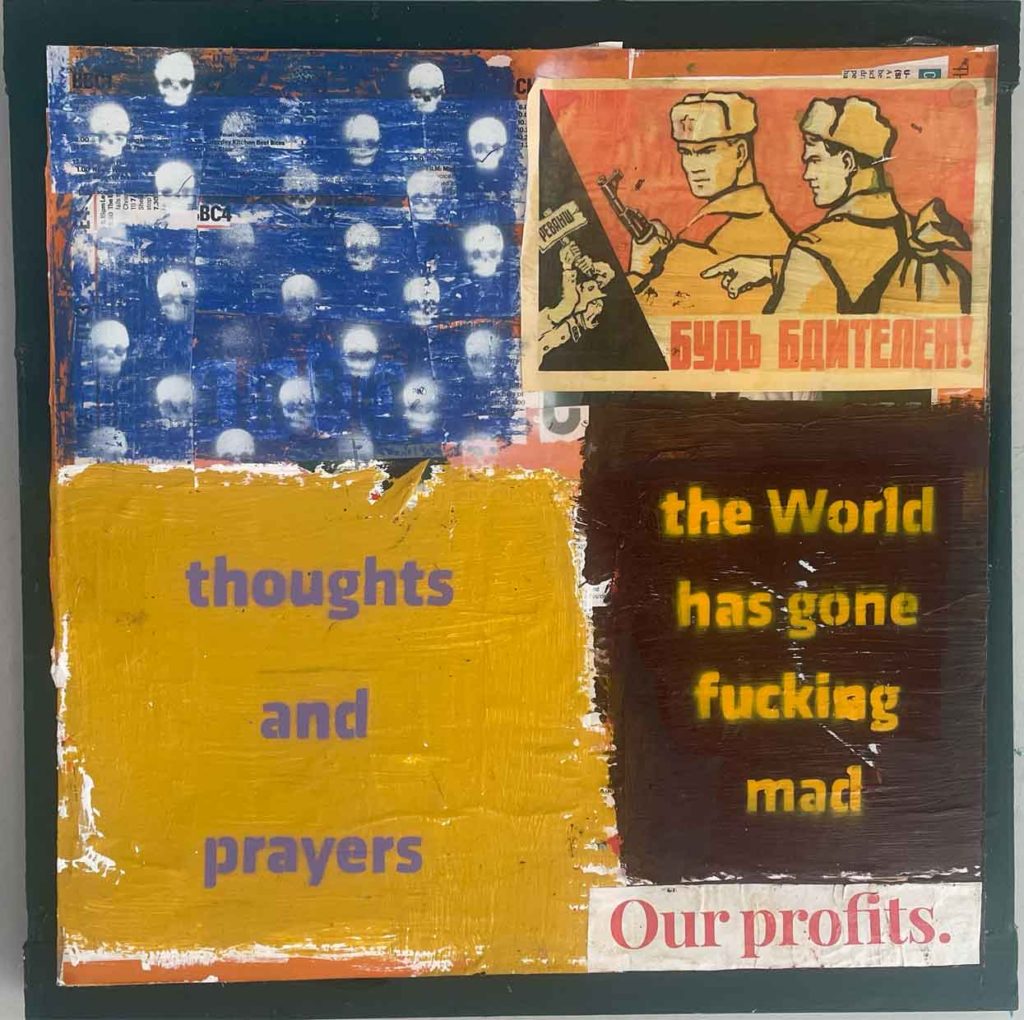 1 Starting work just prior to the horrific massacre on Oct 7th has been witness to the full effect of the propaganda and how deeply entrenched across all media it is. The first and second works are expressing surprise at the ability to cease all wars during the time of a virus and then to recommence when the armaments corporations and 'defence' budgets 2 need their forever wars to start again. And then there were two.
3 Interspersed within the main narrative are references to our eye wateringly corrupt and hypocritical government. In this instance we can't afford to feed hungry children but venal MP's can have 2 subsidised slap up lunches so they don't have to pay for an evening meal.
4 The trumped up outrage against a march for peace in Gaza being held on the same day as Armistice day was truly something. To see the contortions of the Home Office and client media in full swing as they smashed into the reality of understanding that it was International Cease Fire day. 11 No stone was left unturned in the search for anti-semitic utterances or troublesome flags. 6 Not surprisingly my villainous protagonist was at the heart of the disinformation and represented here and in further pictures by Agent Smith from the Matrix.
5 As we continue to plunder the Earth's resources unabated at least there's the diversionary accompaniment of the sound of the media both siding the incoming catastrophe. This one is called, "Drill More, Fuck bears".
7 This work is called "Under The Rug" and was planned as simply as possible using paper versions of my zebra stencil and is aimed at the biggest cover up in the World today, the Jeffrey Epstein sex trafficking scandal and the 400 or so rich and powerful men involved. This has seemingly been completely whitewashed by the media and authorities with the only person found guilty, Ghislaine Maxwell (coincidentally, I'm sure, the daughter of a newspaper Baron). If you look carefully various other institutions are included since I'm on a roll and talking about international sex trafficking being normalised.
8 One work was never going to do justice to the implications, suspicions and malevolence of the scandal so "Jizz Lane" was born.
9 Drink Fuck Die is my response to the utter mismanagement of the world and a mantra to live (and die)by. This work is spray paint, stencil and house paint and available in a variety of colour combinations.
10 Shit Rag was designed as my reposte to the poison on the news stands. To read these papers objectively is to marvel in the dishonesty and division they seed. One noticeable factor is the rift they are exacerbating within the Royal family. Every other page has some sort of dig against the King, usually but not always wrapped up in a Harry/Meghan vs William/Kate non-story. Remaining pages are devoted to harrassing famous, vulnerable women, seemingly for the owners' private delectations.
12 With the Covid Enquiry beamed live into our homes everyone can finally see at first hand how utterly incompetent those governing us actually are. So sure of their entitlement that every bad decision is doubled down on, economy on knife edge, shit in all our waterways, NHS on its knees and a Government firmly set on attacking the institutions at the heart of this country and driving a wedge between its citizens. All the while trying to distract us with a confected migrant crisis and balloons.
13 This is my mum's cat Margo insouciantly carrying on as the spectre of World War III looms behind him. She asked me to do a portrait of him so I was happy to oblige and include him as part of the series.
www.benmellorartist.com | ben@benmellorartist.com | @aliveordreadart
"Mantras are for keeps"
Ben Mellor at the Star & Garter 29 September – 6 December
The show is called "Mantras are for Keeps" and is a selection of the images and characters that I have created over the years to relay the story of institutional corruption, oppression and greed that I wanted to tell. My usual format paintings are made on a 1200mm x 2400mm timber board so the challenge was to scale everything down whilst hopefully retaining the impact and message. I have simplified this in certain instances by the use of 3 or 4 word slogans so beloved of our gaslighting politicians.
The images are either hand painted or stencilled onto canvas board and hand finished. Then roughly hand framed as part of my effort to keep as much as possible within my studio. Please have a look at the website to see the images on a larger scale or on various walls round London.